Organic chemicals
Name: Cupric Salt of 2-mercaptobenzothiale
Cas NO: 4162-43-0
Molecular formula:
C
Package:
Structural formula: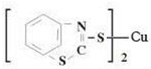 [Quality index]

Indicators Project

Data

First grade

Qualified

Appearance (visual)

Pale yellow powder

Melting point。C≥

300.0

300.0

Heating loss%≤

0.30

0.50

Copper content%

15.5-17.5

15.0-18.0

Sieve residue (100 mesh)≤

0.10

0.20
[Characters]

Red yellow powder, non-toxic. The relative density of 1.60, decomposition temperature 300. C. More than 300. C decomposition.
[Use]

Natural rubber, synthetic rubber, with a strong promoter, especially for styrene-butadiene rubber. But also as a bonding rubber and copper alloys enhancer. This product is used as a fungicide in agriculture. The main control for crops, fruit trees, vegetables, bacterial and fungal diseases.
[Packaging]

Woven bags lined with plastic bag, 25KG / bags.
Contact us


E-mail:sales@pontonche